Windsocks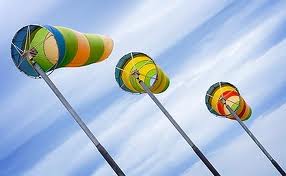 Windsocks were first used as a tool to determine wind direction in agriculture & hazardous work areas.  Now they are the norm for identify safety/ caution zones, are use at airports, helicopter landing pads, oil rigs, cranes, mines & construction sites Windsocks are available in stock colours or can be customized with your logo.  Windsocks are a unique attention getter sure to captivate & turn heads.
Advertising Windsocks
Advertising Windsocks do not require wind to stay open as the frame has a pole running on the inside of the windsock so your message is visible all the time.
Decorative Windsocks
Decorative Windsocks (photo on the right) are found on beaches, ocean fronts, carnivals, expos, trade shows, amusement parks & sporting events.  Windsock Poles, Hardware & Lighting kits also available.